We all have longings. Longings that are deep in our hearts. Longings that motivate us and push us forward. Longings such as dreams. Dreams of being married, or starting a family, or entering a new career. Longings such as desires. Desires to be loved, accepted, belong. When our longings are there, but are not met, we become disappointed, frustrated, even angry. It can be very painful. We begin to shake our fists at heaven and cry out to God "Why have you given me these longings, these good desires, yet you have not fulfilled them?" The hope that we have in these frustrating longings is that God knows and sees us here, and He promises to fill us, if not with our specific longings, with Himself. This is our hope and encouragement. That Jesus will fill our longing hearts with Himself. And that is truly what we need Him to do.
I will be 28 years old next month, and I'm still single. This is not where I thought I would be at this point in my life. I have a God given desire that rages within me to share my life with a godly woman, to do ministry together, to raise a family together, and just to be partners with Christ in His work. Up until this point, it has not happened.
It has been a really frustrating thing to have a desire, a good God given desire within me, to be married, to have a family, to partner with someone in the gospel like this, and yet for it still not to happen. Every time a woman I have clicked with has only viewed us as friends it has been like a knife to the heart. It hurts. Every "no" feels like the "no" will be my destiny and that I will be single forever. I have been frustrated with this, and with God in this time. I'm super impatient.
This morning I slept in, and when I got up, I got into the word. Psalm 107 was where I was today.
9 For he satisfies the longing soul,
and the hungry soul he fills with good things" (Psalm 107:9).

In this verse, God really met me where I was. He encouraged me that the longings in my heart for marriage and a family are good. They are. They are God given.
In this season though, God has withheld these things from me, due to His love and His wisdom. Though He withholds the desires of my heart in this season, He promises to do this: To satisfy my longing soul. How? By giving me Himself. By showing me over and over and over again how much He desires to know me, and desires for me to know Him well. He promises to fill my hungry soul with good things.
He promises to give me everything that I need both in this season of loneliness, frustration, and heartache. If I will just cry out to Him. If I will recognize that my longing is good and right, but that only will I find true satisfaction and fulfillment to my longing through Christ.
I don't know where you are today. If you're reading this, maybe you're in a frustrating season, where it feels that good God given desires are being withheld from you. That is frustrating. It is frustrating when we long so deeply for the good things that God has given us desires for. Be encouraged though. Whether you are waiting on a spouse, a friend, a new job, an easier season, just know that the longings you have, God will fill. Maybe not in this season with the good things, but with Himself. He is all we need.
May we cry out to God in our longings, in our heartaches, in our distress, for He hears us. He promises to fill the longings that we have, the disappointments that we've faced, the storms we've walked through, with Himself. What an encouraging thing. For when we are filled by Jesus, we are actually filled fully, and not just halfway.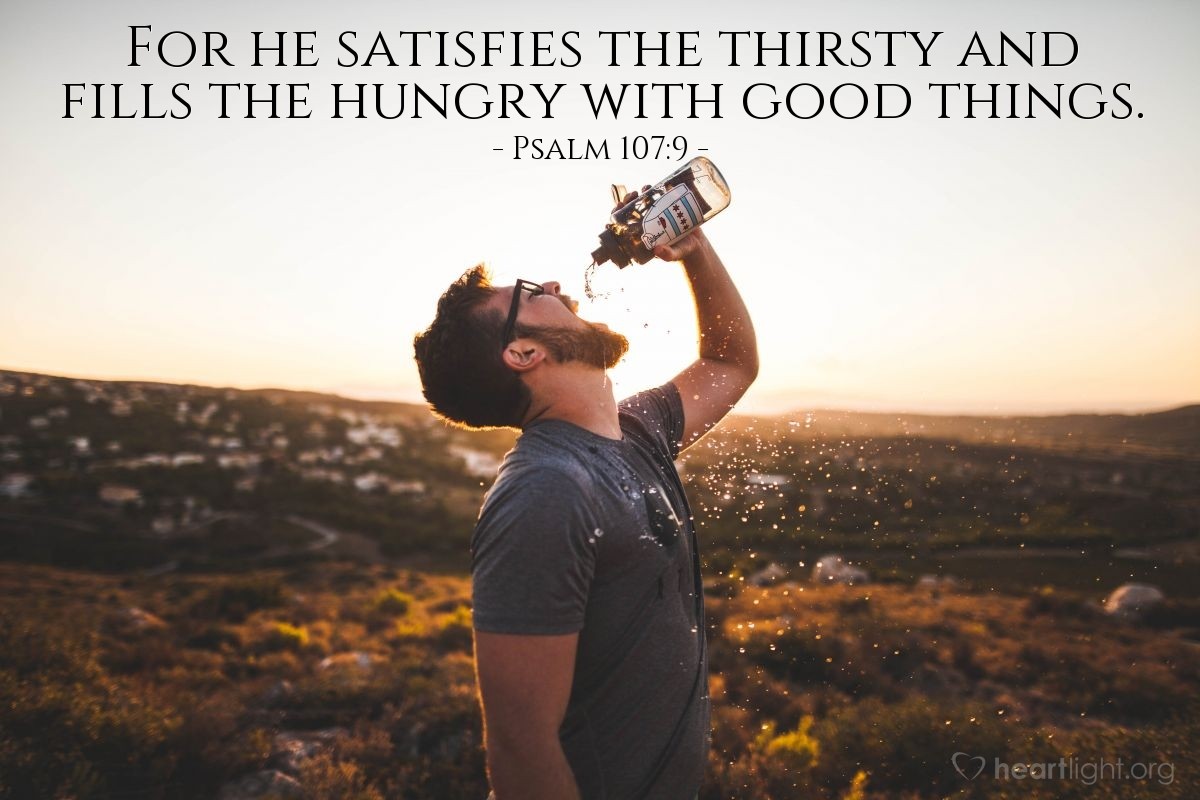 Picture taken from: https://www.heartlight.org/gallery/3315.html
Blessings.