Today I saw the news that Josh Gordon, a talented wide receiver for the New England Patriots, was suspended for violating the NFL's drug policy. It was sad both as a sports fan, and as a human being, especially as someone who is recovering from their own addiction. So I thought I'd write a letter to Josh Gordon. I don't really know how to get it to him, so I just decided to put it up on my blog. Here it is.
Hey Josh,
You don't know me, but I am very familiar with you. I saw today that you got suspended again for violating the NFL's drug abuse policy. As a current recovering addict, I know what you are going through. I know that addictions are insanity. Even though we keep getting caught, vowing to change, we continue to go back to what we know. I lost my job a year ago due to my addiction. It really really sucked. It was one of the hardest things I have ever experienced in my life. I was in a career where I was impacting the lives of young people, but my struggle just took over again. I had to step away from a career I loved.
That's what addictions do. They distract us. They numb us. They take over our lives to the point where we look back in the mirror and we don't even recognize ourselves anymore. Sometimes, it takes something drastic to get our attention. Sometimes it takes multiple drastic things.
I have been battling my addiction for 18 years, and it has been horrendous. It started when I was ten years old, and from ten to eighteen, it remained a secret. No one knew. And it ate me alive. It took me over. Controlled my life. Controlled my time. Isolated me. Pushed me away from everyone I knew and loved.
And then finally I reached out for help. I started going to therapy and counseling at 18 years old and it was tough. Really tough. I was a perpetual liar and had to be to keep up my addiction and to satisfy my cravings.
Lying was my life. I could look anyone in the eyes and lie right to their face. Each lie that I told had a multiplicity of lies underneath it.
I was so addicted and it began to take a toll on me. Spiritually. Mentally. Physically. Emotionally. My eyes were lifeless. My spirit drained. My emotions were numbed out. I was a walking zombie.
It wasn't until I met Jesus Christ that all that changed. Honestly, I can tell you, I thought I was a lost cause. My parents got to a place where they didn't know how to help me, and they asked me to leave my house. I was all alone in the midst of my struggle. That was until Jesus showed up.
He showed up and told me that He had good things in store for my life. A plan and a purpose. Part of that purpose was to be a minister of his, but the main thing He wanted from me was just to surrender my life to Him and to enter into a relationship with Him.
So I did. January 6th, 2012 I got down on my hands and knees in an empty room with a bed with no sheets and surrendered my life to Jesus. That was almost 7 years ago now.
It has been up and down time since then. There have been days and weeks of submitting to Him and growing in His truth, and overcoming my addiction, and there have been weeks and months of running from Him and chasing after my addiction. I can tell you honestly that I never regret not giving into my addictive desires, but I 100% of the time regret giving into them, because they always leave me empty, confused, chaotic, and just numb.
Giving into my desires is like bruce banner going into hulk mode. Once I'm under, I have no clue what's going on until I come out, and then I pray to God that the damage I have done is not irreversible.
I have grown to hate my addiction. I have grown to understand that if I want true joy and fulfillment in this life that this addiction has got to go.
Change is hard though. It takes time. It takes practice to learn to endure these cravings that we desire so much.
I mean these addictions that we give into, they meet something in us. They help us not have to deal with our problems by means of escaping them. In the end though, these means of escaping our problems actually produce more problems than the actual struggles we already face.
For us, as addicts, we have to want to change. That is the first step.
Do you want to change, man?
Its okay if you don't want to at this moment. I know earlier this year I sat in my Christian therapist's office week after week and she would ask me the same question, and there was a point in which I didn't want to change.
I didn't see the destruction my addiction was causing in my life. I had to see that first and foremost. I had to experience the pain. The isolation from loved ones. The brokenness of my life firsthand before I ever decided that I needed and wanted to change.
Once you get to a place of wanting to change, just know that it will be difficult. It will be a long journey. It will be a lot of unlearning. A lot of new growth. New patterns. New behaviors.
You will have to learn to get to the roots of your problems. And then let go of your ways of escaping those problems. You have to get to a place where you meet those problems head on and learn to find healthier ways to deal with them.
Dare to dream that your life can be different and that this addiction won't control you forever. Dare to dream that you will enter back onto a football field again (if the Lord wills). Dare to dream that God will use the difficult in your life for good. That he will take the bad and work in and through it.
I know it may not feel like it right now, but there is hope. There is life in front of you. You just have to let go of the bad, to seize the good. You have to let go of the escape, learn to endure the pain, and then you will live.
There is grace. This is why I write. I've been shown grace by Jesus amidst my million stumbling's. So I try to show that to others. I saw the news about your suspension and it really just hit home with me.
Millions out there are bashing you, and have most likely given up on you, but Jesus never will. He sits with us addicts, in the bottom of our self-inflicted pits and tells us that there is a better way.
He is with us when no one else is there. When we have tested our limits, burned our bridges, ruined people's trust, He still pursues us and calls us to Himself.
This is the gospel, and Jesus wants you to know that He loves you, even here. At your worst. At your lowest. When you have nothing to offer. When you need help. He loves you and calls to you.
I hope this letter encourages you. I hope it encourages you to fight for life. To believe by faith that your struggles can be overcome. And that even here, there is grace.
I want to leave you with this verse that has helped encourage me as I work through my own recovery.
"No discipline seems pleasant at the time, but painful. Later on, however, it produces a harvest of righteousness and peace for those who have been trained by it" (Hebrews 12:11).
Blessings brother.
Your friend,
Joseph.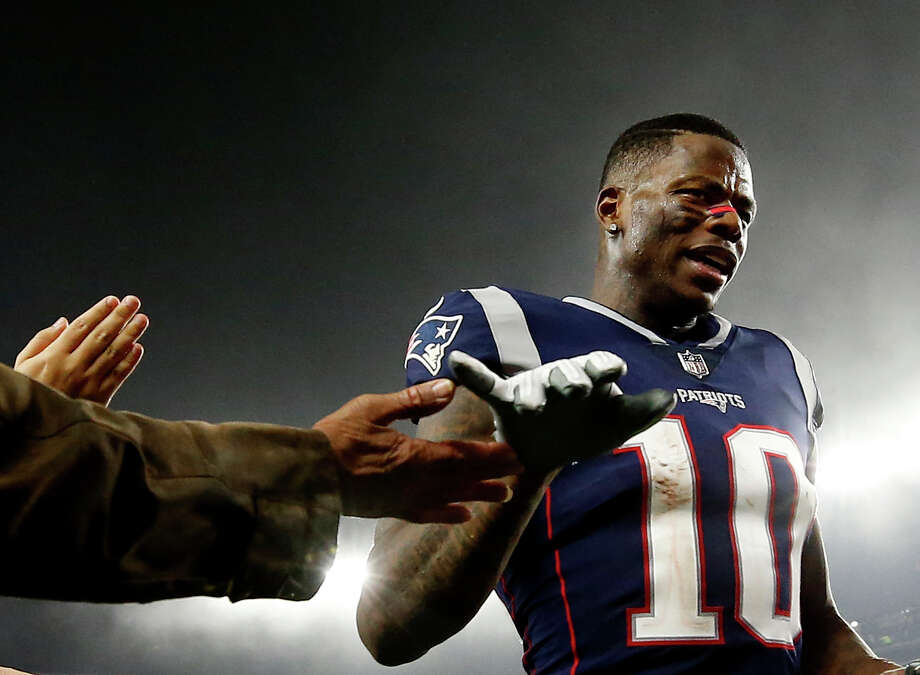 Picture taken from: https://www.chron.com/sports/texans/article/Lamar-star-Patriots-Josh-Gordon-step-away-football-13480697.php